HOME >> Thunderbirds 3D Laser Etched Crystal Cubes
Thunderbird Four Laser Etched 3D Glass Crystal





[check ratings]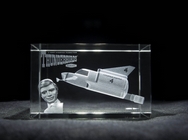 enlarge image

This stunning Laser Etched Gerry Anderson Thunderbird Four Glass Crystal Cube shows Gordon Tracey and Thunderbird Four in a 3D effect. Made from solid Grade A glass, these glass crystals allow the light to shine through, showing Thunderbird Four off to an amazing effect.




For an individual effect shine a coloured light through the glass crystal cube and enjoy the effect.

Measures 8cm x 5cm x 5cm (approx)
Grade A Glass

Official Licensed Merchandise
Limited Circulation - Only 100 available
Check out our optional LED lighting cube and add some light to your Thunderbird Crystal
General service feedback from our customers who bought this item
[3.5 = Satisfactory]






Customer Name / Location
Delivery Speed
Overall Rating
fred, Derbyshire
5 out of 5
5 out of 5
Alan, High Wycombe
5 out of 5
5 out of 5
Suzanne, Stockport
3 out of 5
3.5 out of 5
brian, nottingham
4 out of 5
4 out of 5
Karolyn, Newtownabbey
5 out of 5
5 out of 5
Matthew, London
4 out of 5
4 out of 5
john, ludlow
4 out of 5
4.5 out of 5

Please visit our overall service review page here
You May Also Like...

LED Laser Etched Crystal Lighting Box
£24.95