HOME >> Team GB Gifts
Team GB Tokyo 2020 Olympic Coin





[check ratings]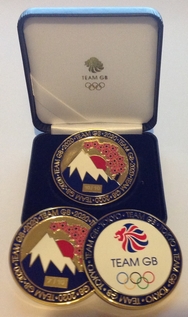 enlarge image

This Officially Licensed Team GB Tokyo 2020 Olympic Coin features Mount Fujiyama with the Japanese Rising Sun with Cherry Blossom on one side and Team GB 2020 on the rim. The reverse shows the Official Team GB Lions Head Logo and Full Colour Olympic rings.

Each Coin measures 50mm (approx)
Circulation of 100

Individually numbered and has a circulation of 100 coins (1/100, 2/100, 10/100 etc)
Gift Boxed with the Team GB logo on the top and inside.
General service feedback from our customers who bought this item
[3.5 = Satisfactory]






Customer Name / Location
Delivery Speed
Overall Rating
Matthew, Kidderminster
4.5 out of 5
5 out of 5
Neil, Wolverhampton
4.5 out of 5
4 out of 5
Mr I, Upper Holloway
5 out of 5
5 out of 5
Leonard, CAMBERWELL
4.5 out of 5
4.5 out of 5
Susan, Telford
4.5 out of 5
4.5 out of 5

Please visit our overall service review page here