HOME >> London 2012 Tablet and Laptop Covers
London 2012 Logo Neoprene Tablet Sleeve
sale!





[check ratings]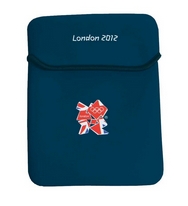 enlarge image

Help protect your valuable tablet with this elegant neoprene London 2012 logo design tablet cover. Depicting the iconic London 2012 logo against a blue background, the London 2012 Olympics can live on forever whilst you protect your tablet with this Official London 2012 Logo tablet sleeve.

Tablet Features include

4mm Neoprene Protection
Measures approx 20 x 26cm


General service feedback from our customers who bought this item
[3.5 = Satisfactory]






Customer Name / Location
Delivery Speed
Overall Rating
Brenda, THORNTON - CLEVELEYS,
4.5 out of 5
4.5 out of 5
Michelle, Uxbridge
4.5 out of 5
4.5 out of 5
m, PONTEFRACT
4 out of 5
4.5 out of 5
Suzanne, London
4.5 out of 5
4.5 out of 5
John, Galashiels
4.5 out of 5
4.5 out of 5

Please visit our overall service review page here
You May Also Like...

Team GB - Bring On The Great Limited Edition Pin
£4

Pack of Two Silver Party Fountain Candles
£3.25