HOME >> London 2012 Tablet and Laptop Covers
London 2012 Logo Neoprene Laptop Cover - 10"
sale!





[check ratings]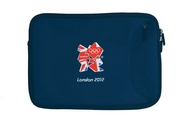 enlarge image

Protect your laptop and tablets with this Official London 2012 Logo 10" laptop cover.

Features include

Outer zipped pocket
4mm neoprene protection
London 2012 zipper puller
General service feedback from our customers who bought this item
[3.5 = Satisfactory]






You May Also Like...

Pack of Two Silver Party Fountain Candles
£3.25